Fencing Materials In Erode :
Fencing Materials In Erode we specialize in all type of chainlink fencing, barbed wire fencing, gi wire fencing, pvc chainlink fencing materials dealers make first quality fencing materials suppliers in erode With our through search of leading market, we are able to offer an exclusive range of Barbed Wire Fencing. For the better output, our engineers finished these wires with proper galvanization to prevent the wires from getting rusted. Offered wire fencing materials is tested on various parameters of quality for delivering a flawless range art the client end. We are one of the leading importers of barbed wire, chainlink fencing dealer and suppliers covered over all in south Indian areas.

Fencing Materials In Erode is to provide our customers with the highest level of quality workmanship and service, ensuring repeat and referral business. To enable this we need to create a positive working environment which encourages cooperation and personal development for all our employees. Fencing Materials In Erode thirumala have been wonderful in helping me fullfil my fencing needs Our most popular fencing products are shown below.
How we can help :
¤ Chain Link Fencing
¤ Barbed Wire Fencing
¤ GI Wire Fencing
¤ PVC Chainlink Fencing.


Chain Link Fencing Materials In Erode :
Chain Link Fencing Materials In Erode we are able to manufacture and supply of Chain Link Fencing materials and fencing work dealers supply various types of barbed wire, gi wire, pvc chainlink fencing suppliers in erode. Customers can avail from us an exclusive range of Chain Link, which are fabricated by employing approved quality raw material at our production premises. Under the supervision of experienced industrial professionals, these offered products are developed by the application of latest technology and machinery. Our Chain Link Fencing Materials are used for fencing of farms, factories, animal's enclosures, houses, flying area, roof support in long wall mining, etc.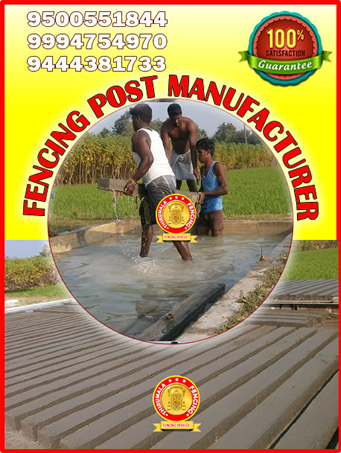 Barbed Wire Fencing Materials In Erode

Thirumala is a leading Barbed Wire Fencing Materials In Erode offered various types of fencing materials and done to be optimized fencing services to done to erode are surrounding areas. We specialise in a wide range of fencing options in and around Erode. we are presenting a range of Barbed Wire Fencing to our customers. Our products are available at industry leading prices with proper customization as per need. These products are manufactured by using high quality galvanized wire and other required material. We are well efficient tin manufacturing and designing highly efficient barbed wires at low cost. These products are shaped and designed according to our client's needs. Therefore, these are getting immense accolades and satisfaction of our clients. These barbed wire fencing materials in erode is manufactured from mild steel wire hence they are corrosion free & durable. All these efforts lead us to design qualitative wires & fencings and meet the client's satisfaction level. Choose from a wide range of attractive and functional fence designs, created specifically for your needs.


GI Wire Fencing Materials In Erode :
India's Leading GI Wire Fencing Materials in Erode company, with the largest fencing services and fencing works are supply different types of chainlink, barbed wire, gi wire, pvc chainlink fencing dealers in erode. Our team plays a major role in offering quality products & services to our customers. We are a profound name of the organization engaged in delivering a compact array of gi wire . Moreover, these wires are joined by the help of electric resistance welding. Our team of employees fabricates this range with the aid of advanced technologies and tools.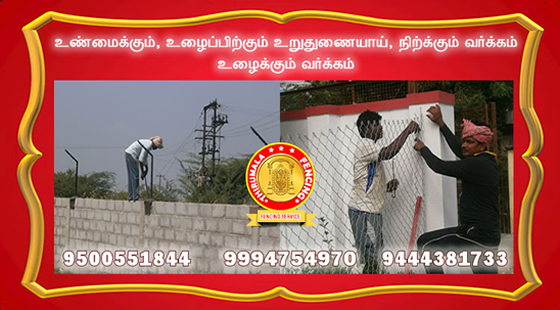 Features :
¤ Wire spacing is controlled by an automatic mechanism
¤ Find wide application in fencing specific area
¤ Only superior quality GI Wire is offered by us
¤ Longer service life
¤ Robust Construction
¤ Available in Different Shapes and sizes
¤ Low Maintenance
¤ High Quality Raw Material.

PVC Chain Link Fencing Materials in Erode :
PVC Chain Link Fencing Materials in Erode commitment to high quality brand PVC fence starts in our state of the art PVC fence fabrication shop where full-time Thirumala professionals custom build a diverse line of picket and privacy style PVC fences and ends in providing you with the elegant touch and accent to your home that you've always looked for without the maintenance. It is completely maintenance free and adds beauty, style, and elegance to your home. We feature a large selection of quality residential PVC fencing materials. Thirumala Fencing Services in Erode offered best quality of chainlink, barbed wire, pvc chainlink dealers and suppliers in surronding areas. We feature a large selection of industrial fencing including: chain link, PVC, highway products and security fencing services.
FENCING SERVICE AREAS IN ERODE :
Aapakudal
Ammapettai
Anthiyur
Appakudal
Jambai
Arachalur
Ariyappampalayam
Athani
Bhavani
Brahmana
Chennasamudram
Chennimalai
Kanjikoil
Karumandi
Kasipalayam
Kembainaickenpalayam
Chinnakkampalayam
Elathur
Elumathur
Gobichettipalayam
Kilampadi
Kodumudi
Kolappalur
Kuhalur