Fencing Services In Vellore :
Thirumala fencing services in vellore authorized fencing work, fencing materials dealers and suppliers in vellore areas. We pride ourselves on our customer service and aim to stand out from the crowd. We offer a service where no money is paid until the job is complete. Customer service and satisfaction is our top priority. Thirumala Fencing Services In Vellore offering reliable services to our customers. We have earned a reputation for offering good quality products & services at reasonable prices.

We are specialists in all aspects of fencing materials in vellore including Chainlink fencing, barbed wire fencing, gi wire fencing, pvc chainlink fencing. Over the past 10 years we have built an enviable reputation for providing reliable and safe services. We have been manufacturing, supplying and installing chain link fence to our customers since 2000. There are various options for the boundary fence and we are always on the chart of best fencing solutions for your property. High quality fencing services in vellore for your home, business, or farm from a highly experienced fencing services in vellore are realted areas.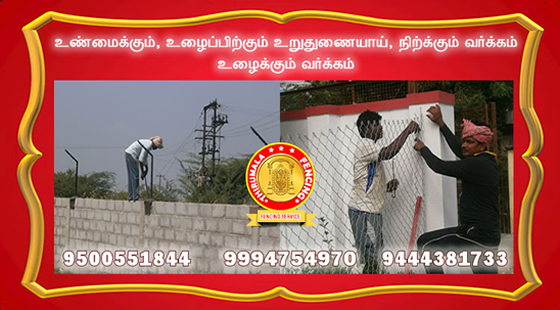 Strength of the company :
¤ Zero error policy for quality
¤ Continuous research and development
¤ Highly qualified team
¤ Inexplicable quality wires and fencing
¤ Timely delivery
¤ Cost effective prices
¤ Exprienced Staff Work to here
¤ First Quality Fencing Materials

Fencing Works In Vellore :
Fencing Works In Vellore is a popular fencing materials and fencing work dealers and suppliers in Vellore area. Our friendly team of fencing work in Vellore experts are passionate about their work, and will always go above and beyond to ensure the customer's needs are met. Thirumala Fencing Works In Vellore is India's leading brand in fencing products. Provide the customer with the best value that can be found in the marketplace and provide top quality service to back up that product value.
We have also the manufacturing wing in which we manufacture, export and supply high tech security fencing with the barbed wire. Fencing Works In Vellore Thirumala is based on the belief that our customers' needs are of the utmost importance.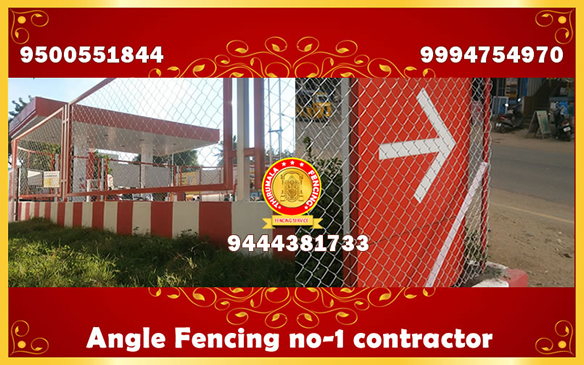 Fencing Dealers In Vellore :
Fencing Dealers In Vellore products are well known for their high rigidity, durability, and high strength, which increase their demand in the market. We have an experienced team of professionals, which supports us in providing highly functional products and makes sure that the products are processed while maintaining the diverse quality parameters. It is because of our hard work and determination to provide the best products, that we have earned a large number of clients in a short service period. Owing to the efforts of our team, we have been successful in catering to the requirements of the clients based in varied parts of the world. This has been possible owing to our quality products which are manufactured in compliance with the industry standards. Further, for our clients convenience, we provide the option of customization of products in terms of sizes, diameter and outer diameter.