Fencing Materials In Thoothukudi :
Fencing Materials In Thoothukudi Fencing are one of the south's leading fencing services and fencing works done to here. we're proud to offer our customers honest service from an easy to work with staff. Our customers can trustfully depend on them. Thirumala Fencing Materials in Thoothukudi understands that your home is as much about the outside as it is the inside. Our fencing materials and fencing services are properly handle products and particularly we are the given to the quality fencing services in thoothukudi.

We are committed to fencing materials in thoothukudi providing our clients with superior quality and service in all of the fencing solutions that we create. Our team always conducts themselves with a friendly and professional attitude, even when we've been on our feet all day!


Chain Link Fencing Materials In Thoothukudi :
Thirumala Chainlink fencing materials in Thoothukudi providing an economical and efficient product to enclose the smallest or the widest area to suit your specific needs. This is another popular type of fencing predominantly used to prevent land infiltration. The height and dimensions of the chain link can be as per the customer needs. The height ranges from 1 foot to 15 feet and the hole size of the Chain Link varies from 1 inch to 6 inches. It is a high quality fencing mesh and can be made out of low carbon steel (MS) wire, galvanized (GI) wire, stainless steel (SS) wire or plastic coated (PVC) wire. The weaving is simple, artistic and quite practical. Chain link fencing materials have been a popular fencing choice for decades on both residential and commercial locations.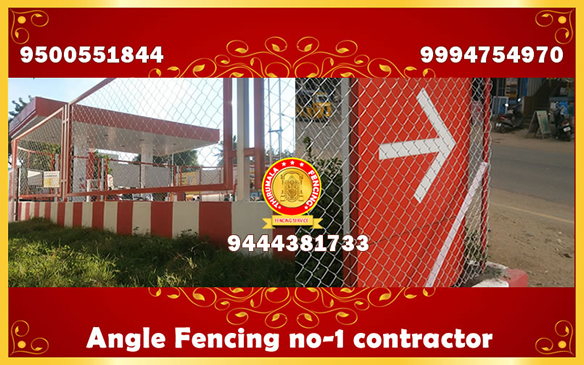 Barbed Wire Fencing Materials In Thoothukudi :

Barbed Wire Fencing Materials In Thoothukudi are dealer for "TATA" make Barb wire. barbed wire is manufacturer and Suppliers of Thoothukudi. This is the most popular type of fencing prevalent in India with over 60% of lands being fenced with barbed wire. There are several designs possible with barbed wire and the height of the fencing can be as per the needs of the customer. The barbed wire fencing materials can be installed using stone pole, concrete poles or pipes. Barbed wire, also known as barb wire, is a type of fencing wire constructed with sharp edges or points arranged at intervals along the strand(s).
Advantages :
¤ Low cost and inexpensive
¤ Sharp barbed wire acts as an effective deterrent for intruders, cattle and wild living things
¤ Transparent and do not obscure sunlight from either side of the fence die to open weave structure
¤ One of the most sought of fencing solution
¤ It is ideal for securing properties such as your house and business premises.
¤ Barbed wire used for farm fencing is ideal in keeping and wild life from roaming around outside the borders of the farm
¤ PVC coated barbed wire are also corrosion resistant.

GI Wire Fencing Materials In Thoothukudi :
Thirumala Gi wire fencing materials in Thoothukudi have added a vast variety of GI Wire fencing Materials, fencing services ,dealers in Pondicherry location. we are well reckoned as one of the eminent GI wire fencing materials in Thoothukudi manufacturers and Galvanized Iron Wire suppliers from India. Our GI wires are manufactured with the help of latest technique machineries that provide them complete impeccability. We are providing best quality of gi wire fencing materials in thoothukudi dealers and suppliers doing very well known process to here.

Applications :
¤ Manufacture of fencing products such as chain link & barbed wire
¤ Used in vineyards & rubber Plantations
¤ Manufacture of bail handles & bale tie-wire
¤ Used as stay wire & earthling wire
¤ Manufacture of wire meshes & gabion meshes.

FENCING SERVICE AREAS IN Thoothukudi :
Arumuganeri
Athur
Authoor
Eral
Ettayapuram
Iluppaiyurani
Kadambur
Kalugumalai
Kayalpatnam
Kayalpattinam
Kovilpatti
South Maniyachchi
Muttayyapuram
Ottapidaram
Pasuvanthanai
Perungulam
Udangudi
.