Fencing Materials In Trichy :
Fencing Materials In Trichy is specializing in fence installation and fencing work are fencing materials suppliers and dealers in trichy location. Chain Link Fence & Supply Company offers the best price, quality and selection of thirumala fencing materials for your Agriculture, home, or garden, industrial & Commercial areas or empty land. Thirumala Fencing services in trichy is proud to be one of premier fence design and installation companies, we specialize in constructing a wide variety of quality fence systems for both residential and commercial clients.

our installation team is highly skilled and focused on providing a positive customer experience. Because our company pride itself on quality work we're quickly earning the reputation as one of Thirumala leading fencing materials in trichy dealers and suppliers companies.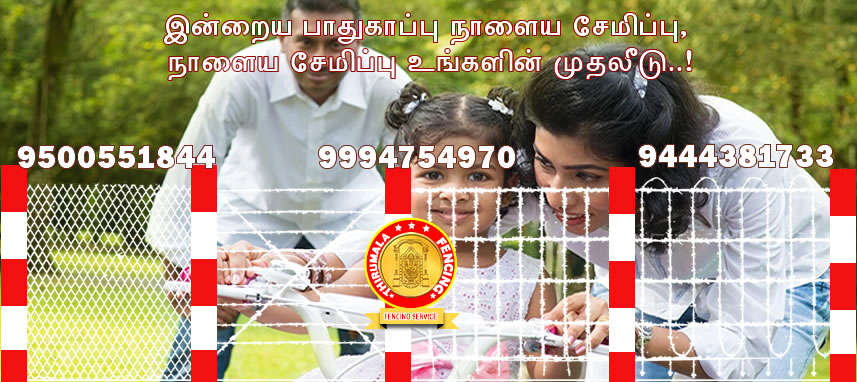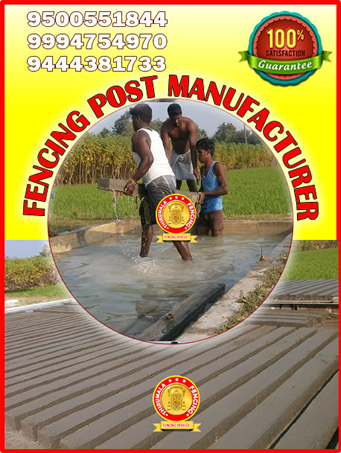 Fencing Materials in Trichy Installation :
¤ Domestic Fencing Services
¤ Commercial Fencing Services
¤ Industrial Fencing Services
¤ Agriculture Land Fencing Services
¤ Empty Land Fencing Services
¤ Cost effective prices
¤ Real Estate Fencing Services.
¤ Additional Privacy.
¤ Better Security.
¤ Installation of a Pool / Pool Safety.
¤ Construction Area Fencing Services.

Chain Link Fencing Materials In Trichy :
Chain Link Fencing Materials In Trichy is reputed fencing work and fencing services are fencing materials suppliers and dealers in trichy location. Chain link fencing has numerous applications, from residential homes and office buildings to storage units and various manufacturing companies. Chain link fencing services in trichy provides the privacy and intimacy you need, and it is used in a wide range of applications: limits the access to homes, commercial buildings, storage facilities, companies, tennis courts, ball parks and so on. Chain link fencing materials in trichy is among the least expensive ways to fence in your property! Chain link fence is available in a variety of colors and gauges to suit your needs.

There are a number of styles and varieties of chain link fences that you can choose from for your business or home. Call the experts at Thirumala Fencing services in trichy for expert advice, and be on your way to increased security. Our fence installers are trained and qualified professionals.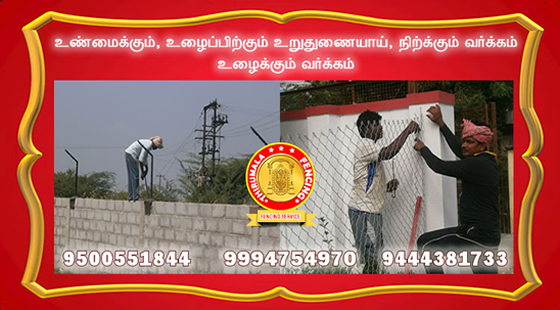 Barbed wire Fencing Materials In Trichy :

Barbed Wire fencing Materials In Trichy is the leader in the fencing materials supply and fencing work given recent installation of permanent fencing and access control systems for all perimeters. We are a well established fencing company with 10 years' experience. Barbed wire fencing materials in trichy gives added security to a stock proof fence. Multi strand barbed wire fence is a good practical alternative suitable for general farm fencing. barbed wire fencing is commonly used in conjunction with netting fences and in areas.
Advantages :
¤ Low cost and inexpensive
¤ Sharp barbed wire acts as an effective deterrent for intruders, cattle and wild living things
¤ Transparent and do not obscure sunlight from either side of the fence die to open weave structure
¤ One of the most sought of fencing solution
¤ It is ideal for securing properties such as your house and business premises.
¤ Barbed wire used for farm fencing is ideal in keeping and wild life from roaming around outside the borders of the farm
¤ PVC coated barbed wire are also corrosion resistant.

GI Wire Fencing Materials In Trichy :
Gi Wire Fencing Materials In Trichy is one of the leading fencing work and fencing materials dealers and gi wire suppliers of trichy location. Our fencing services in Trichy are clearly assumed to work with fulfil to your requirements and satisfied for your clients needs projects. We are providing best quality of gi wire fencing materials dealers and suppliers doing very well known process to here.

Applications :
¤ Manufacture of fencing products such as chain link & barbed wire
¤ Used in vineyards & rubber Plantations
¤ Manufacture of bail handles & bale tie-wire
¤ Used as stay wire & earthling wire
¤ Manufacture of wire meshes & gabion meshes.

FENCING SERVICE AREAS IN TRICHY :
Kailasapuram
Karattuppatti
Kallakudy
Koothappar
Krishnasamudram
Lalgudi
Srirangam
Teppakulam
Woraiyur
golden rock
Kallanaia
Manapparai
Musiri
Navalpattu
Pappankurichi
Pettavaithalai
South Kannanur
Tiruvanaikoil
Trichy airport
Industrial colony
Mele kalkandar kottai
Perambalur
Thathaiyangarpet
Thiruverumbur
Thottiyam
Thuraiyur
Thuvakudi
Tiruverambur
Tennur
Thillainagar
Kattur
K.K nagar